At MRH we provide prevention services, as well as solutions for waste management, pollution, industrial safety and social responsibility problems in SMEs, large companies and corporations. In the following sections, we describe some of our services: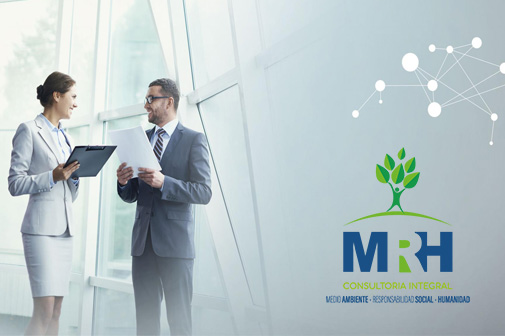 Well aware of the dynamism and dedication required by our clients, MRH adapts to their needs by providing remote assistance (telephone calls, WhatsApp, e-mails, videoconferences) and/or on-site support, in any city within Mexico (mainly in the states of Aguascalientes, Nuevo León, Coahuila and in Mexico City).
The Sustainability Report is a means by which organizations inform their internal and external stakeholders of their environmental, economic and social performance (sustainability indicators), and state their future objectives and goals, which are necessary to comply with their principles and achieve sustainability with transparency.
There are different guidelines for generating sustainability reports, the most recognized being the Global Reporting Initiative (GRI) guideline that began in 1997 and the 10 UN Global Compact Principles crafted in the year 2000. Both organizations promote sustainable development by issuing their guidelines so that companies can measure their performance and evaluate the current status of their goals related to:
Sustainable economy.
Protection of natural resources, flora and fauna.
Poverty reduction.
Protection of human rights.
Transparency.
In 2013 the Global Reporting Initiative issued version GRI4 of their guidelines, providing a new approach based on the "materiality" of the information and marking 2015 as the deadline to adopt these new guidelines.
If your organization is interested in taking a step towards good practices in communication and transparency, do not hesitate to contact us. At MRH we have the right personnel to support you in adopting this international guideline.
ENVIRONMENTAL PROCEDURES:
Management of procedures and requirements such as the Annual Operating Certificate, Environmental License, Water Discharge, Hazardous Waste Registration and Special Waste Management, Authorizations for provision of services, etc.
Environmental Risk Studies and Accident Prevention Program.
Environmental Impact Assessments and/or Preventive Impact Reports
SAFETY (STPS) REQUIREMENTS:
Documentation of procedures and studies such as chemical risk assessment, fire hazard evaluation, etc.
OPERATIONAL CONTROL:
Design of operational and documentary strategies to improve safety and environmental aspects.
• Evaluation of Environmental Aspects and design of its operational control.
EVALUATION/AUDIT:
Evaluation of legal compliance in Environment, Safety, Health and Energy.
TRAINING:
• Training and awareness in environmental and industrial safety issues, application of environmental legislation, emissions calculation, evaluation of environmental aspects, etc.
CLEAN INDUSTRY CERTIFICATION:
Preparation and training to obtain the certification, as well as pre-audit service.
Re-Certificación de Industria Limpia por medio del Reporte de Desempeño Ambiental (RDA).
CORPORATE SOCIAL RESPONSIBILITY :
Strategy design, implementation and support during the process to obtain the SA 8000 certification and/or the CSR certification.
GREAT PLACE TO WORK: strategy design, implementation and support during the process.
Social studies to determine issues such as discrimination perception, job satisfaction, determination of stakeholders, etc..
CLIMATE CHANGE:
Implementation, integration and/or updating of ISO 14064.
Elaboration or Pre-verification of the Greenhouse Gas Emission Inventory (GHG), design and training in the tools available for its calculation.
Calculation of Carbon Footprint.
Mexico CO2 Platform – Mexican Stock Exchange.
ENERGY:
Energy Diagnostics.
Evaluation of alternative supply to CFE (including self-supply counseling).
Implementation, integration and/or updating of ISO 50001.
Evaluation of energy saving projects (Energy Management System -EMS).
SYSTEM MANAGEMENT:
Implementation, integration and / or update of ISO 14001: 2015
Linking ISO 14001: 2015 systems with IATF 16949 or ISO 9001: 2015
Transition from ISO 14001: 2004 to requirements version 2015
Preparation of internal auditors in ISO 14001: 2004 (based on ISO 19001: 2018)
Preparation of environmental evaluators for the requirement 9.1.2 of ISO 14001: 2004